INTRODUCTION PAGE
Welcome To KASWESHA HOUSING COOP. SOCIETY Website; In GOD Almighty We Trust.
INTRODUCTION
Kariobangi South Welfare and Slums Housing Association (KASWESHA)Cooperative Society is located at Room 2 1St Floor Mutarakwa House off Mutarakwa Road, Kariobangi South Location, Embakasi Division, Nairobi East District East Africa Kenya.
(KASWESHA) was formed by a group of people living in KCC Slum Village in 1999 lead by Mr.James Njoroge Gitau. (KASWESHA) was intially registered under Provincial Department of Social Services(PDSS) under Scheme KCC Muungano Savings Self Help Group and later re-registered under section 10 of the Societies act Cap 108 Laws of Kenya. Currently it is registered under Cooperative Societies act (Cap 490, Section 6 (3)) Laws of Kenya and holds Certificate registration No. CS/11283
KASWESHA is accredited UN Habitat as Habitat Agenda Partners, www.unhabitat.org and it is also accredited AIDS Campaign Partners, by the World Aids Campaign (WAC) see www.worldaidscampaign.org (Partners Section)
KASWESHA also partners with United Nation Millennium Campaign (UNMC) www.standagainstpoverty.org & GCAP Kenya Coalition in advocacy on Millennium Development Goals.

The Organization also works very closely with Nairobi City Council, City Planning Department, Minisitry of Housing (Kenya Slum Upgrading Secretariat), and Mr. CEZARY BEDNARSKI of STUDIO BEDNARSKI LONDON (see www.riba.org/qo/RIBALondon5516.html) to see to it that the transformation of of K.C.C. slum village to modern Houses and if possible a Millennium Village is fulfilled. However Owing to financial constrains this task is proving to be very difficult and we do appeal to whom ever it might concern to come to our rescue, and give us any kind of assistance financially, material wise or Ideally we will highly appreciate that.
"A NEW WOLRD IS POSSIBLE"
FROM THE CHAIRMAN'S DESK
I am pleased to welcome you into our website!
KASWESHA is a welfare association of Slum dwellers across the country although it was first formed in Kariobangi South. Our mission is to build better homes for our Members especially as regards eradicating extreme poverty, Hunger and Slums by the year 2015. We are engaged in various small scale trade groups that seek to enhance the savings of our members into the consolidated fund.
our passion is to see that every member own a decent house, and that we reduce by half extreme poverty amongst members of Kariobangi South Community and also that Deadly Deases Like AIDS, T.B. Malaria is well taken cere of on terms of prevention and if possible cure.
Currently we have 120 registered members and only 35 fully paid up members. This is because most of our members are unemployed and lack even the most basic access to a three square meal.
But our circumstances do not derail our vision for a more equal society. We are commited to enhancing the capacity of our members in order to enable them live a confortable life.
The pilot program is in Kariobangi South, KCC Slum Village where the community living there as squatters through the intiatives of Muungano wa Wanavijiji (Federation of Slum Dwellers) (over 500Household) have been awarded permernent 0.015ha.plots with Allotment Letters by the Nairobi City Council, .
Please Come Help Us Eradicate Extreme Poverty and Hunger, Counter attack HIV?AIDS, T.B. Malaria etc. and build better housing for all!!!!
We are also seeking assistance, support and advice as we embark on advocating for good Governance, Human rights and peace for all!!!.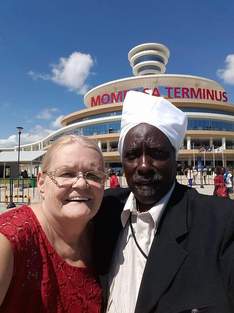 CHAIRMAN's PROFILE
James Njoroge Gitau has been a proficient crusader for the upgrading of slums in Kariobangi South. He has literally single handedly brought together the communities and leadership in this area and harmonised them to work together for the greater good.
He is a vorunteer community worker and has worked together with the National CBO Council, UN Habitat, WFP, Pamoja Trust, Shelter Forum among others in various partnership capacities.
James is happily married to Brenda Joyce Henson Gitau and is a father to 3 Children Namely Lucy Nyambura Njoroge, George Gitau Wangui, and Moses Gitau Njoroge.
You can contact James through;
P.O.Box, 73136 Nairobi,
-00200-Kenya
Cell-phone No.+254 721 274 273 or +254 722 212171
e-mail Gitau57@yahoo.com
SEND US AN EMAIL :-
FOR MORE INFORMATION CALL
MR JAMES NJOROGE: 0722-212171 or Write to P.O.Box 73136-00200 Nairobi, Kenya
Below this line is the buttons of Global Poverty Capaigners which we are accredited to.

<a href="http://www.mdg-dev.oneworldonline.org/aff/2/1"> <img border="0" alt="Stand Up Against Poverty" title="Stand Up Against Poverty" src="http://standagasintpoverty.org/files/images/MCLOGO_Combined_300.jpg" /></a>
Buttons

<a href="http://www.mdg-dev.oneworldonline.org/aff/2/5"> <img border="0" alt="Stand Up Against Poverty" title="Stand Up Against Poverty" src="http://standagasintpoverty.org/files/images/Eventmaterial_button_1" /></a>


Ad Banners

<a href="http://www.mdg-dev.oneworldonline.org/aff/2/4"> <img border="0" alt="Stand Up Against Poverty" title="Stand Up Against Poverty" src="http://standagasintpoverty.org/files/images/EventMaterial_Logo_English_small.jpg" /></a>


http://www.ecoterra.org.uk/sites/anti-chiangmai-night-zoo-1.htm