About
About KASWESHA
Kariobangi South Welfare and Slums Housing Association (KASWESHA) is located at Kariobangi South Location, Embakasi Division, Nairobi East District, Nairobi Province Kenya. (KASWESHA) was formed by a group of people living in KCC Slum Village in 1999 lead by Mr.James Njoroge Gitau.
Organization
(KASWESHA) Is registered under section 10 of the Societies act Cap 108 Laws of Kenya. Initially it operated as Self-Help Group issued Certificate of registration by the P.D.S.S. under scheme K.C.C.Muungano Savings Self-Help Group. It was accredited under the same scheme by U.N Habitat as Habitat Agenda Partners, and it is also accredited AIDS Campaign Partners, by the World Aids Campaign (WAC) (Partners Section) It is also affiliated to Shelter Forum (SF) which is Polocy Advocacy Organization.
On the year 2006 we again registered under Cooperative Societies Act as KASWESHA Housing Cooperative Society
We also try as much as we can to liaise with Nairobi City Council, City Planning Department, Minisitry of Housing (Kenya Slum Upgrading Secretariat) to see whether we can transform the K. C. C. Slum to a Modern Housing Estate, and if possible a "Millennium Village" but then our efforts has never bore any fruits.

At one time working with a Mr. CEZARY BEDNARSKI of STUDIO BEDNARSKI LONDON (see www.riba.org/qo/RIBALondon5516.html) we almost struck a deal. Mr. Cezary had designed the village which then won him an award by becoming No. 1 out of two hundred and fifty projects all over the World but then he lacked cooperation from the City Council.
As a resault of not finding a way forward most beneficially of plot allocation has sold their plots at through away prices fearing forfeiture of the same to the council, for they are unable to limit the premium rate together with the annual ground rent which have accumulated to 37,500/= Kenya Shilling as on the year 2008, they then end being squatters elsewhere or becoming tenants at the very plots they had sold out thus becoming more poorer than they initially were.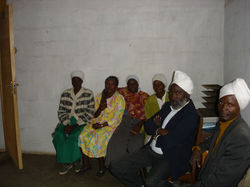 Others
Contact Information