Welcome To My Homepage
Welcome To KASWESHA Housing Cooperative Society Website We Trust In GOD Almighty
INTRODUCTION-

KASWESHA Housing Cooperative Society is located at 1St Floor Room 2 Mutarakwa House of Mutarakwa Road Kariobangi South Location, Embakasi Division, Nairobi East District, Kenya. (KASWESHA) is a short form of Kariobangi South Welfare & Slums Housing Association.
FROM THE CHAIRMAN'S DESK
I am pleased to welcome you into our website! I trust you will be interested and you will think of how you can assist in making our dreams come true.
KASWESHA
is a welfare association/Housing Cooperative Society of Slum dwellers based at KCC Slum Village of Embaksi Division Kariobangi South Location Nairobi, though entitled to do project anywhere in the Repulic of Kenya we have based our actities at a Slum village called KCC in Kariobangi South as a Pilot project.

Our mission is to build better homes for our Members especially as regards Eliminatin of Slums and Eradication of Extreme Poverty & Hunger, Reduce Child Mortality, Promote Gender Equality and Empower Women, Combat HIAV/AIDS Malaria and other Diseases, Ensure Environmental Sustainabilty, by the year 2015 (The MDG's)

We belive and trust that our Government have what it takes in order to make the above dreams come true, thus the reason for us coming together and forming the organization so as to allow us smooth interaction with varios Governmet Departmets to achieve our goal.
Most of our members are engaged in various small scale trade groups that seek to enhance the savings of our members into the consolidated fund.
We have a Communiti Resouce Centre where members of the commuinity can access information at ease. At the Resource Centre we also train members of the communities in ICT so as to make them computer literate
Our passion is to see that every member own a decent house, and that we reduce by half extreme poverty amongst members of Kariobangi South Community. Furthermore, we hope to include health facilities in the community to ensure that Deadly Diseases like AIDS, T.B. Malaria are well taken care of on terms of prevention and if possible cure.
Currently we have 120 registered members and only 40 fully paid up and most active members. This is because many of our members are unemployed and lack even the most basic access to a three square meal.
But our circumstances do not derail our vision for a more equal society. We are committed to enhancing the capacity of our members in order to enable them live a comfortable life.
The pilot program as indicated above is Kariobangi South, KCC Slum Village where the community there lived as squatters since colonial era, but through the initiatives of this Association in conjuction with Pamoja Trust Shelter Forum and Muungano wa Wanavijiji (Federation of Slum Dwellers) (over 500Household) were awarded permanent 0.015ha.plots with Allotment Letters by the Nairobi City Council in the year 2002.
Please wherever you are do anything you can to assist this group in Eradicating Extreme Poverty and Hunger, and Counter attack HIV?AIDS, T.B. Malaria etc. and build better housing for all!!!!
We also seek assistance

, support and advice as we embark on advocating for good Governance, Human rights and peace for all!!!.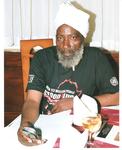 CHAIRMAN's PROFILE
James Njoroge Gitau has been a proficient crusader for the upgrading of slums in Kariobangi South. He has literally single handedly brought together the communities and leadership in this area and harmonised them to work together for the greater good.
He is a volunteer community worker and has worked together with the National CBO Council, UN habitat, WFP, Pamoja Trust, Shelter Forum among others in various partnership capacities.
James is happily married with 7 Children Namely Lucy Nyambura (Her mother Esther Wangechi) Irene Wairimu, Suzan Nyambura, Kennedy Kimani, Paul Mutonga, George Gitau, (Their mother Mary Wangui Mutonga) and George Gitau alias Moses Mwangi (His mother Mary Wamoro).
Out of the seven 5 are from one biological mother while the rest are from two deferant biological mothers. You can contact James through; P.O.Box,73136 Nairobi,-00200-Kenya
Cell-phone No.

0721 274 273

or 0722 212171 e-mail: Gitau57@yahoo.com